EuroChem Group AG reports IFRS financial information for Q2 2018
Zug, Switzerland, 8 August 2018 – EuroChem Group AG (hereinafter "EuroChem" or the "Group") a leading global fertilizer company, today reported consolidated sales for the second quarter of 2018 of $1.31 billion, 24% higher than in the corresponding period of 2017. The second-quarter performance lifted sales for the first six months of 2018 to $2.67 billion, 11% above the $2.4 billion realised during the first half of 2017.
A much higher operating profit carried second-quarter earnings before interest, taxes, depreciation and amortization (EBITDA) 41% higher year-on-year to $339 million, compared to $241 million during the same period last year. First-half EBITDA amounted to $677 million, 15% ahead of the $590 million achieved a year ago.
Second-quarter fertilizer sales volumes of 3.5 million metric tonnes (MMT) brought first-half sales volumes to 6.9 MMT, compared to 6.8 MMT during the first six months of 2017, as the Group shifted its production mix towards UAN, AN, CAN and complex products in light of the more competitive trading landscape. The Group's expanding distribution capabilities further supported third-party fertilizer product sales of 1.87 MMT, slightly ahead of the 1.86 MMT achieved in the January to June 2017 period.
Sales volumes for mining products for the three months ending 30 June 2018 were 31% higher year-on-year and amounted to 1.51 MMT. Despite a lower performance in Q1, recovery in Q2 saw first-half volumes of 2.94 MMT, 3% above last year's level.
"On the back of rising prices in the second quarter and more favourable market conditions our Group has achieved a very positive performance in pushing first-half EBITDA significantly higher," said EuroChem Group CFO Kuzma Marchuk. "The Group intends to maintain this momentum and concentrate on growing the potash business."
Market overview

Global ammonia prices rallied in late May on prompt cargo demand and increased in the second quarter compared to the first quarter 2018 amid shutdowns and turnaround in Russia, Saudi Arabia, Malaysia and Australia in June. Prices recorded on average a 17% decrease in Q2 year-on-year from $278/tonne to $231/tonne and an 11% decrease in H1 year-on-year from $290/tonne to $258/tonne.
Global urea prices surged on average in Q2 (+20% to $227/tonne FOB Black Sea for prilled urea) and H1 year-on-year (+6% to $228/tonne FOB Black Sea for prilled urea) for several reasons: A late-May NOLA price surge on Corn Belt demand pushed benchmarks higher in the Middle East, Brazil and other markets. Traders have also been covering short positions for prompt shipments in Europe and Africa and there were anticipations of India being pressured not to import from Iran in the next purchase tender.
Global potash markets tightened in Q2 on the back of firm buying from South Asia, the US and Europe, despite a quiet Brazilian market in the aftermath of a nationwide truckers' strike in May, and improved year-on-year by 16% in Q2 from $349/tonne to $403/tonne and by 14% in the first half of the year from $351/tonne to $400/tonne.
Muriate of Potash (MOP) prices rose in Q2 in all key markets on SE Asian tender activity and strong demand in other regions pushing the MOP FOB Baltic spot price 10% higher to $249/tonne compared to $225/tonne in the second quarter of 2017 and 11% higher in the first half of 2018 compared to the corresponding period in 2017.
The firming of the steel market supported iron ore prices in April 2018 and they remained stable through the second quarter 2018 despite strict environmental regulations in China, but decreased on average by 6% in the first half of 2018 compared to the same period last year.
Income statement
The Group's business is conducted by four operating divisions aggregated in four reportable segments identified as Mining, Fertilizers, Logistics, and Sales.[1]
[1] Effective 1 January 2018, the Oil & Gas Division was removed from the Group's corporate structure.

Higher average prices in conjunction with higher sales volumes lifted the Group's second-quarter sales 24% higher year-on-year to $1.31 billion. When combined with our first-quarter performance, the stronger first-half pricing environment supported an 11% increase in first-half sales of 2018. EuroChem Group AG consolidated sales for the first six months of 2018 amounted to $2.67 billion, compared to $2.40 billion during the corresponding period of 2017.
The more favourable pricing environment and production optimisation helped push the Group's second-quarter EBITDA to $339 million, 41% above the $241 million realised in the second quarter of 2017.
On top of a strong sales performance, the Group's operating profitability was positively affected by the 2.5% depreciation of the Russian rouble against the US dollar, although partly offset by the appreciation of the euro against the US dollar. The first-half average US$/RUB rate increased year-on-year to 59.46 from 57.86.
For the first six months of 2018, the Group realised 49% and 20% of its sales in dollars and roubles, respectively, while euro-denominated sales represented 21% of total sales.[2]
[2] As fertilizers and mining products are dollar-denominated commodities, in terms of the economic substance the Group views its sales as predominantly denominated in US dollars even where nominally this may not be the case.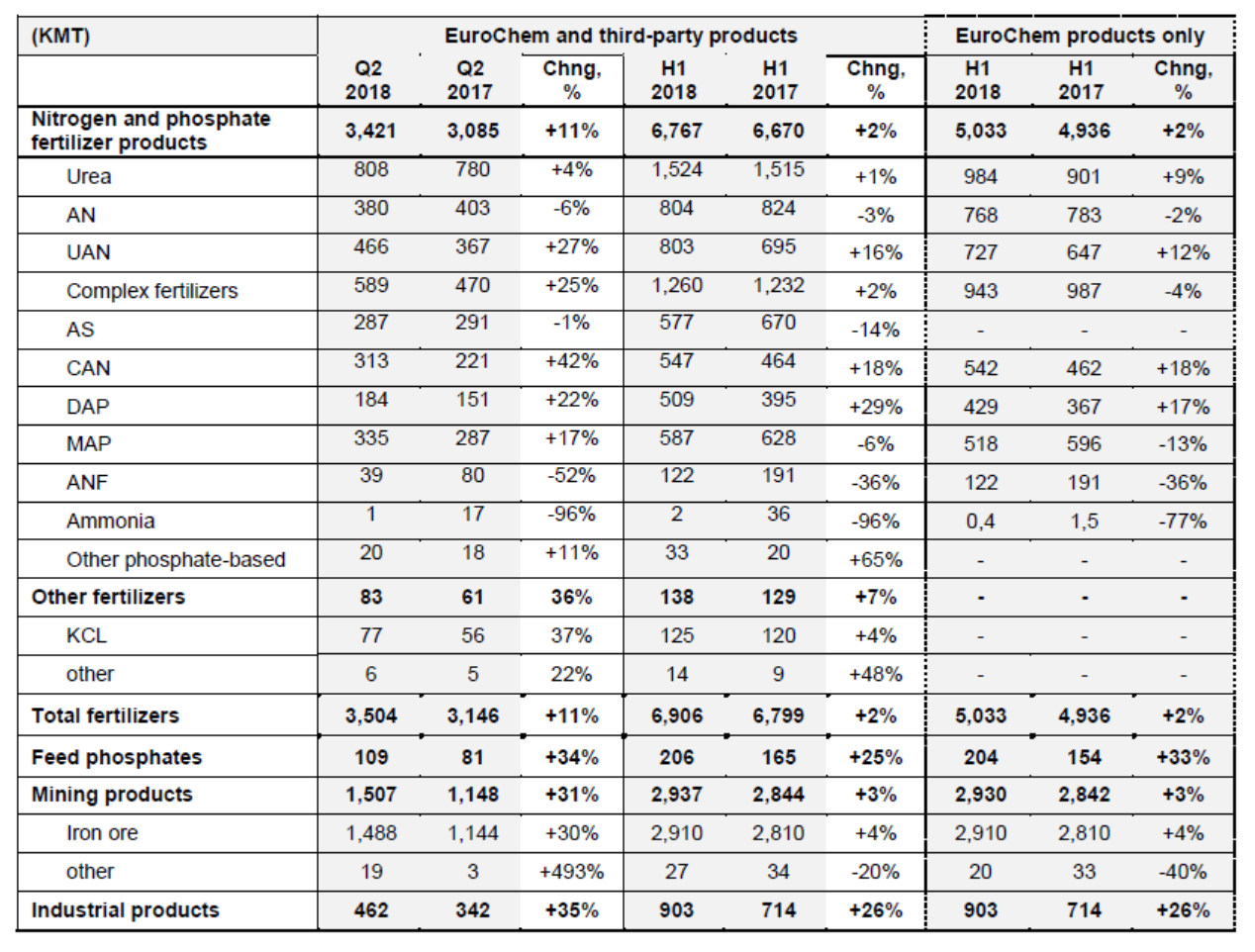 The Group sold 3.5 MMT of fertilizer products during the three-month period ended 30 June 2018, bringing year-to-date fertilizer sales through June 2018 to 6.91 MMT, which was slightly ahead of the 6.8 MMT sold in the same period last year. An increase in sales volumes of all product groups in Q2 alleviated the lower sales seen in Q1 and was additionally supported by an average price appreciation, lifting the total sales figure in the first half of 2018 by 11% or $273 million compared with the same period last year.
Excluding third-party products, the Group sold 5.03 MMT of EuroChem fertilizer products in the first six months of 2018, ahead of the 4.94 MMT recorded in the first half of 2017. Sales volumes of third-party fertilizers in the first half were almost static at 1.87 MMT.
Sales to new industrial customers in addition to business expansion in new countries contributed to an increase in sales of industrial products of 26% in the first half of 2018.
Iron ore sales during H1 2018 were $27 million lower, a 12% reduction year-on-year, reflecting a 16% drop in average prices but a 4% increase in sales volumes. During the first half of 2018 the share of sales of Iron ore to China decreased by 10 percentage points in favour of domestic sales in Russia on the back of higher margins, and amounted to 36% of total sales in the period.

Second-quarter sales to Europe, Russia and the CIS, the Group's domestic markets, together accounted for 51% of total Group sales. The European market remained the Group's largest contributor in the first half of 2018 and accounted for 31% or $811 million of sales during the period, up from $735 million during the first half of 2017.
The first half of 2018 was characterised by higher sales in North America triggered by additional demand as the peak consumption season finally started at the end of April, and opportunistic spot sales in the Asia Pacific region at good price levels.
Following the import ban on specific products at the beginning of the year in Ukraine and further sanctions later on against a large number of Russian suppliers, the Group decided to divest 100% of its distribution assets in the country (two Ukrainian companies) in May to an unrelated party.
Higher sales volumes in North America were partly caused by re-allocation of sales volumes from the Ukrainian market and also by seasonal sales opportunities, mostly for Feed phosphates, UAN and AN produced by Russian plants.
First-quarter costs of sales, excluding goods for resale, increased slightly, up 2% to $1.03 billion, compared to $1.01 billion in the corresponding period of 2017. Raw material costs, which accounted for 57% of our costs of sales, amounted to $593 million, up from $498 million in the first half of 2017. The increase was mainly caused by an increase of apatite purchased from third-party suppliers and higher sulphur costs.
Balance sheet
The Group ended the second quarter with net leverage of 2.78x on covenant net debt of $3.38 billion and 12-month rolling EBITDA of $1.22 billion. During the first half of the year, the Group's debt covenant level was set at 3.5x.
Cash flow
For the three months ending 30 June 2018, the Group generated operating cash flow of $238 million, making a total of $507 million for the first half, 6% below of the same period last year. The reasons were: Increased Net Working Capital amid overall market price growth for main fertilizers and additional investments in inventories related to the strategy of going deeper in distribution (building up inventory in Latin and North America with additional own- and rented-storage capacities procured in 2018) coupled with some negative one-off effects of Q2 delivery delays following the truck drivers' strike in Brazil. In addition, a relatively high investment-related VAT refund in H1 2017 was not achieved in H1 2018 as the Group's major projects have passed the main investments stage.
The Group allocated $247 million to capital expenditure (capex) during the second quarter of the year, bringing capex spending for the first six months of 2018 to $551 million, compared to $601 million in the first half of 2017. A more detailed overview of the main capex items is provided in the Divisions section of this publication.
Project finance
During the six months ending 30 June 2018, the Group received EUR 74 million from the EUR 557 million non-recourse project financing of the Group's ammonia plant in Kingisepp, Russia.
In June 2018, the Group fully prepaid the $750 million non-recourse project finance facility signed in 2014 for its Usolskiy potash project and which was due in 2019, with the use of a $600 million subordinated shareholder loan (treated as equity) received in June, as well as JP Morgan's $125 million tranche and the Group's own funds.
Corporate developments
EuroChem appointed Dmitry Strashnov as Group CEO with effect from July 1, 2018. Mr. Strashnov was Chief Executive Officer of Russian Post from 2013 to 2017. Before that he was a Member of the Management Board at Tele2 AB, and previously was CEO of Philips Consumer Electronics in Russia.
EuroChem appointed Kuzma Marchuk as Group CFO with effect from June 13, 2018. Mr Marchuk, who joined the EuroChem Board of Directors as a Non-Executive Director in 2017, is also a Member of the Board of SUEK, where he served as Chief Financial Officer between 2011 and 2016. Prior to that he was CFO of Uralkali between 2004 and 2010 and served, between 2007 and 2010, as a Member of the Board of Directors of Uralkali.
Also in June, EuroChem Group AG was rated Ba2/Stable outlook (equivalent 'BB/Stable outlook') by Moody's. This was a higher credit opinion than that of S&P (BB-/Stable outlook) and Fitch (BB/Negative outlook). In addition, the RAEX rating agency (Expert RA) awarded MCC EuroChem (a subsidiary of EuroChem Group AG) a credit rating of ruA+, with a stable outlook.
Another development in June was the signing by EuroChem of a new US$820 million unsecured finance facility with 13 leading international banks. The three-year Facility was arranged on a club basis and came with a two-year grace period. The Group will use the proceeds to refinance part of its debt, including a portion of the Unsecured Club Loan obtained in 2017.
The Facility was oversubscribed, which reflects EuroChem's strong credit profile and the level of support the Group enjoys among the international banks.
Events taking place shortly after the reporting period
EuroChem signed a Memorandum of Understanding (MOU) with Heilongjiang Beidahuang Farms to supply potash and NPK fertilizers to China.
EuroChem announced the opening of its second new fertilizer blending plant in Brazil this year. The latest facility is part of the ongoing expansion of EuroChem's subsidiary Fertilizantes Tocantins, a major fertilizer distribution business in Brazil in which it acquired a controlling stake in 2016.
Divisions
(Ranked by EBITDA contribution)
Fertilizers Division
The Group's Fertilizers Division includes the production of mineral fertilizers (nitrogen, phosphate and complex fertilizer products) and organic synthesis products as well as the phosphate rock beneficiation operations at EuroChem-Karatau (Kazakhstan).

The Fertilizers Division realised second-quarter sales of $787 million, 10% stronger than the $715 million recorded during the same period last year. Stronger product pricing dynamics and improved sales performance lifted the division's Q2 EBITDA 37% year-on-year to $218 million. First-half sales were 13% ahead at $1.63 billion while EBITDA increased 26% to $431 million.
Capex spending of $90.3 million reflected EuroChem's continued commitment to several investment projects, the most important of which is the Group's 1 MMTpa EuroChem Northwest ammonia project in Kingisepp, Russia. Completion of the project is scheduled for the end of 2018.
Mining Division
The Group's Mining Division comprises the Kovdorskiy GOK (Russia) and EuroChem-Fertilizers (Kazakhstan) mining operations as well as the Group's two potash projects in Russia – VolgaKaliy (Volgograd region) and Usolskiy (Perm region).

Higher average iron ore prices in Q2 mitigated the effects of a 20% year-on-year decrease in first-quarter sales volumes and helped the Division achieve sales of $160 million, which was within 3% of the $165 million realised during the same period last year. First-half sales amounted to $311 million, 12% below the comparable figure in the same period last year of $354 million.
Second-quarter Mining Division EBITDA of $69 million drove first-half divisional EBITDA to $125 million.
Mining Division capex spending slowed down as the investment cycle at the Usolskiy potash project was closed and fully prepaid. Capex spending during the six-month period ending 30 June 2018 decreased 19% year-on-year to $338 million, including capex of $191 million at the Group's Usolskiy potash project and $117 million at VolgaKaliy.
EuroChem VolgaKaliy (Gremyachinskoe potash deposit, Volgograd region)
As part of the Gremyachinsky GOK construction project, Skip Shaft #1 was sunk to the designated depth and equipped. Skips were installed to fulfil the 2018-2020 Production Plan without the Cage Shaft. The total hoisting capacity of Skip Shafts #1 and #2 including the skip-cage is 10 million tonnes per annum, which will allow the mine to ramp-up to its planned Phase 1 production rate of 2.3 million tonnes of finished product per annum. Efforts are underway to build a freeze wall around the cage shaft. The flotation plant is in commissioning mode and the first concentrate is expected in Q3 2018. Full production capacity is projected to be reached during 2021.
EuroChem Usolskiy Potash (Verkhnekamskoe potash deposit, Perm region)
Ten mining machines are currently in operation in the mine, both for development and production. The total length of headings amounts to 40 kilometres. Finished product is being produced at train 1 under commissioning mode. Construction and installation at train 2 is nearing completion with commissioning operations expected to be finished in the third quarter of 2018. The Raw Ore and Finished Product Storages areas have been constructed and commissioned. The finished product loadout area has been built at the site, the station at Palashery is ready to load trains with the finished product and dispatch them onwards to customers. All utilities, including water, gas and associated treatment facilities have been constructed and put into operation. A methodical effort is underway to improve process parameters and expand ore mining capacities.
Sales Division
The Group's Sales Division is responsible for the sale of EuroChem products as well as third-party products through the Group's global distribution network.

Although the second quarter is traditionally the weakest due to the seasonality of the Group's business, favourable market conditions had a very positive effect on the Sales Division's quarterly performance this time. Notwithstanding the subdued trading in Q1, first-half sales climbed 12% to $2.61 billion, aided by higher average prices. Over the same period, EBITDA jumped 296% to $111 million.
The Sales Division allocated $8.9 million to capital expenditure during the first six months of 2018.
EuroChem signed a take-or-pay agreement for the purchase of up to 100% of expected future Sulphate of Potash (SOP) output from the Colluli Potash Project in Eritrea, East Africa, which can be resold to third parties or used for our own production of NPKs at both Antwerp and NEV Azot.
Logistics Division
The Group's Logistics Division covers all supply chain operations including transportation services, the purchase and delivery of raw materials and finished goods, as well as freight forwarding and other logistics services.
The Logistics Division achieved 5% growth in second-quarter sales, which rose to $59 million. Sales for the first six months of the year increased 8% to $122 million.
Second-quarter EBITDA remained at the same level year-on-year at $25 million, while first-half EBITDA amounted to $51 million, up 5% on the same period last year. The increase in profitability was supported by higher freight rates on the back of higher sales volumes and higher rents of railcar fleet.
First-half capex was 190% higher year-on-year and amounted to $12.5 million.
Market outlook
The positive development of both Phosphate and Potash prices seen during the first half of 2018 is set to continue for the rest of the year.
In Phosphates, the strong pull from major import markets in India, Pakistan, Brazil, Argentina and the US is keeping producer inventory levels tight. The impact of plant closures in the US is being felt as imports to the US mount and compete with other import demands in Latin America and Europe.
On Potash, the market is still eagerly awaiting the 2018 contract settlement in China. Globally, spot prices have continued their upward trend, accepting ever higher numbers throughout Q2 and into Q3. Producers are comfortably tight and with imminent contract settlements expected for India and China, the market is expected to remain tightly balanced with further moderate price gains throughout the remainder of 2018.
---
This EuroChem publication contains forward-looking statements concerning future events. These statements are based on current EuroChem information and assumptions concerning known and unknown risks and uncertainties.
About EuroChem Group AG
EuroChem is a leading global producer of nitrogen, phosphate and potash fertilizers, as well as certain industrial and mining products. The Group is vertically integrated with activities spanning mining to fertilizer production, logistics, and distribution. EuroChem began test potash production at its Usolskiy mine in early 2018, and continues to develop a second greenfield site at VolgaKaliy in Russia.
Headquartered in Zug, Switzerland, the Group operates production facilities in Europe, Asia, Latin America, and the CIS, employing more than 26,000 people.
Our customers benefit from our extensive global sales network of carefully selected partners and distributors across all major markets. Our regional sales teams provide customers with a broad portfolio of crop nutrition solutions and services. EuroChem's portfolio comprises a wide array of products for every application, including fertigation, foliar or field, from standard products to our premium Nitrophoska® family and innovative stabilized fertilizer series such as ENTEC® and UTEC®
For more information, please visit eurochem-corporate-qa1b64.azurewebsites.net. Any media or analyst enquiries should be directed to the appropriate EuroChem Group contact, as listed below:
Media
Guy Dresser
Head of Communications EuroChem Group AG
guy.dresser@eurochem-corporate-qa1b64.azurewebsites.net
Elena Kalinskaya
FTI Consulting
+44 (0) 20 3727 1000
eurochem@fticonsulting.com
Russian Media
Vladimir Torin
Head of Public Relations MCC EuroChem
vladimir.torin@eurochem-corporate-qa1b64.azurewebsites.net
Investors
Ruslan Karmanny
Head of Corporate Finance and Treasury
EuroChem Group AG
ruslan.karmanny@eurochem-corporate-qa1b64.azurewebsites.net
All announcements