EuroChem opens third new fertilizer plant in Brazil
Zug, Switzerland, June 4, 2019 – EuroChem Group AG, a leading global fertilizer company, today announces the opening of a third new fertilizer blending plant in Brazil.
The new 27,000m2 facility at Araguari in Minas Gerais, a state in the south-eastern part of the country, is another step in the continued expansion of EuroChem's subsidiary, Fertilizantes Tocantins (FTO), a major fertilizer distribution business in Brazil.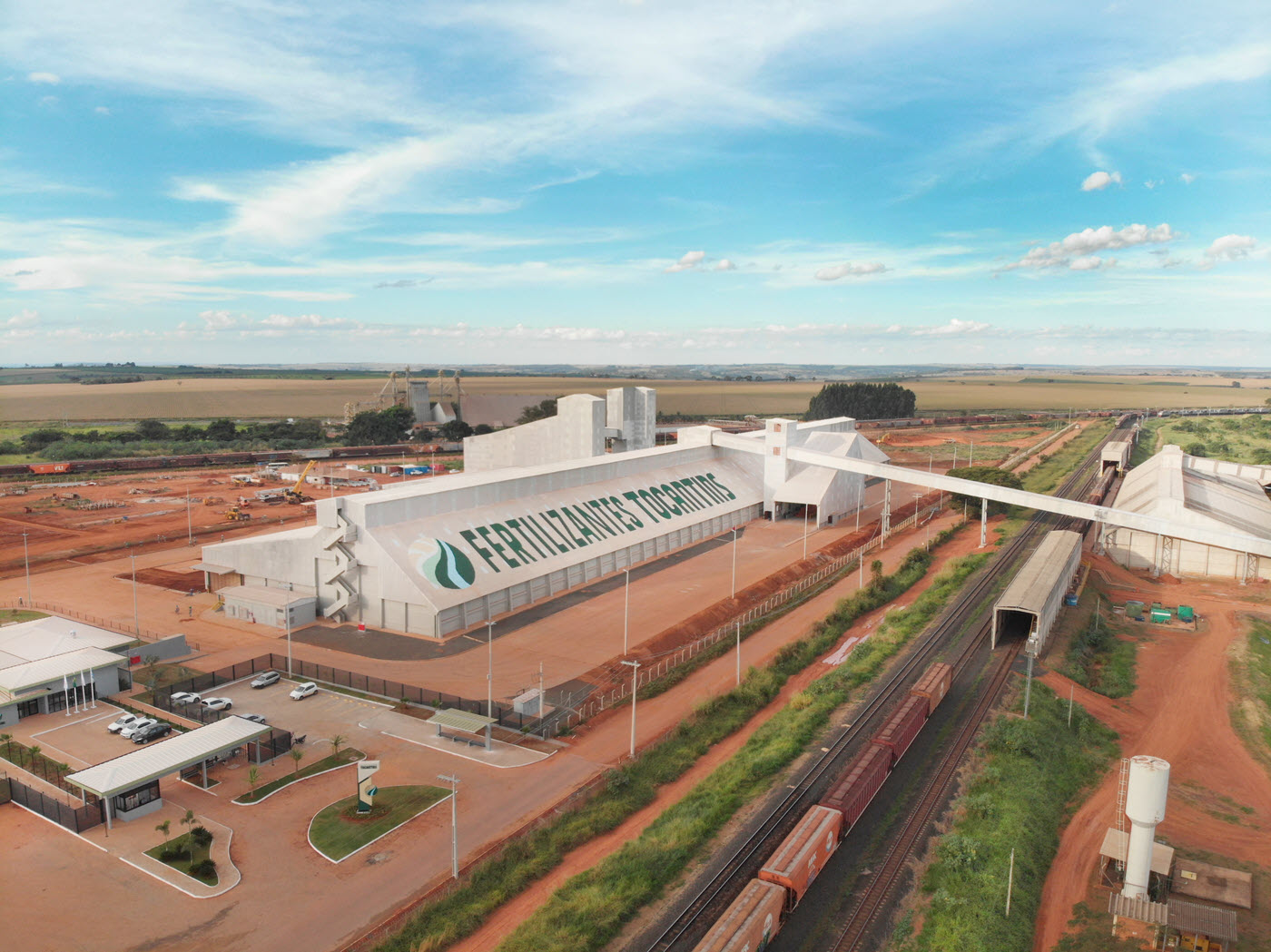 The new plant will produce up to 6,000 tonnes (KMT) of fertilizer a day, with a storage capacity of 100 KMT, creating 200 new direct and indirect jobs.
"Brazil is an important growth market for us and our new plant at Araguari marks the latest stage of our expansion in Latin America" said Petter Ostbo, Chief Executive of EuroChem. "I'm delighted by the progress we are making here and we will continue to provide high quality fertilizers to our growing customer base."
The Araguari site also has a direct rail connection from the Atlantic seaport of Vitoria, about 520km north-east of Rio de Janeiro, facilitating deliveries to local customers of specialty fertilizers produced by EuroChem in Europe, meeting the specific needs of Brazilian farmers. These include Nitrophoska®, CAN, and NPS.
"The Araguari plant marks our entry into the south-eastern region of Brazil, a strategically important part of the country" said FTO's CEO, José Eduardo Motta. "After the opening of two other major plants within the past year, at Sinop and Catalão, our focus is now on the consolidation of these new markets, so we can continue to maintain our successful rate of growth."
FTO sold more than 1.8 MMT of fertilizers in 2018, making it one of the biggest fertilizer providers in Brazil. In addition to Araguari, Catalão and Sinop, FTO has six other plants located in Porto Nacional, São Luis, Querência, Rondonópolis, Barcarena, and Anápolis, with a corporate office in Goiânia, employing 600 people.
In 2016, the Group acquired a controlling interest (50%+1 share) in FTO as part of its strategy to strengthen its presence in the fast-growing Latin American fertilizer market. EuroChem also owns Emerger Fertilizantes SA, a distributor of premium and standard fertilizers in Argentina which it acquired in 2017.
---
About EuroChem Group AG
EuroChem is a leading global producer of nitrogen, phosphate and potash fertilizers, as well as certain industrial and mining products. The Group is vertically integrated with activities spanning mining to fertilizer production, logistics, and distribution. EuroChem began potash production at its Usolskiy mine in early 2018, and continues to develop a second greenfield site at VolgaKaliy in Russia. Headquartered in Zug, Switzerland, the Group operates production facilities in Europe, Asia and the CIS, employing more than 26,000 people.
For more information, please visit eurochem-corporate-qa1b64.azurewebsites.net or contact:
Media
Guy Dresser
Head of Communications EuroChem Group AG
guy.dresser@eurochem-corporate-qa1b64.azurewebsites.net
Maitland/AMO
Communications advisors
Eurochem-Maitlandamo@maitland.co.uk
Russian Media
Vladimir Torin
Head of Public Relations MCC EuroChem
vladimir.torin@eurochem-corporate-qa1b64.azurewebsites.net
Investors
Oxana Kovalenko
Head of Investor Relations
EuroChem Group AG
oxana.kovalenko@eurochem-corporate-qa1b64.azurewebsites.net
All announcements