EuroChem receives IFA Gold Medal in recognition of health, safety and environment engagement
Zug, Switzerland, November 14, 2018 – EuroChem Group AG ("EuroChem" or the "Group"), a leading global fertilizer producer, has received the International Fertilizer Association (IFA) Excellence Gold Medal for its efforts in advancing Safety, Health and Environment (SHE) issues.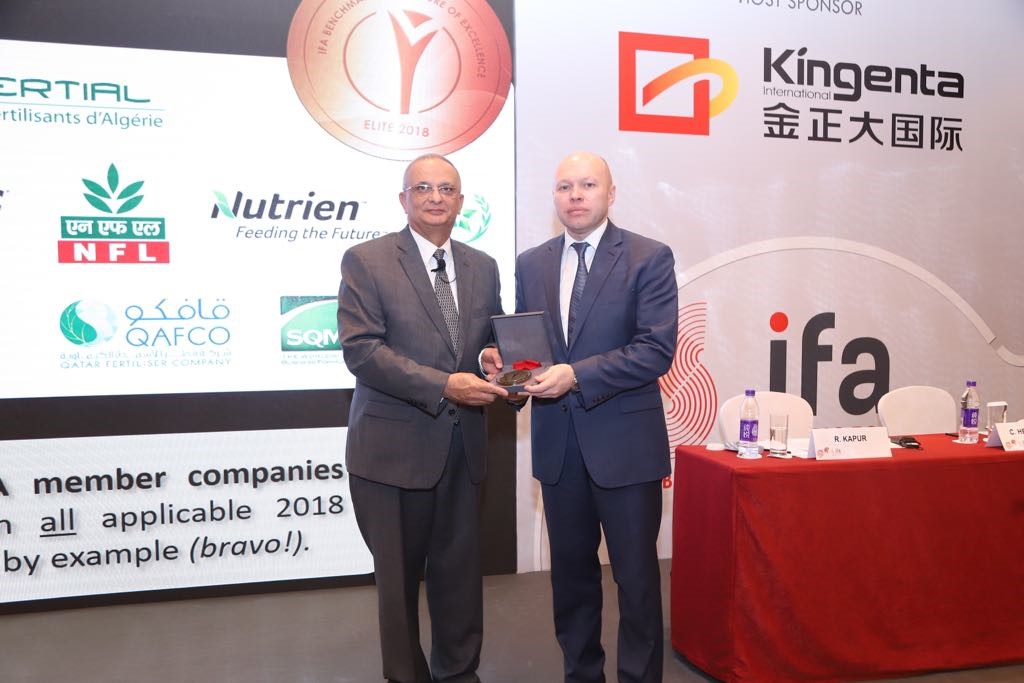 As part of the IFA's Culture of Excellence, the world's leading association for the fertilizer industry bestows the SHE Gold Medal on companies that appraise and address their efforts in four key areas: Employee Safety Performance, Employee Safety Perceptions, Environmental Performance and Energy Efficiency & CO2 Emissions.
"EuroChem leads by example in the international fertilizer industry in terms of advancing the agenda of Safety, Health and Environment issues," said IFA President Rakesh Kapur. "We are proud to have EuroChem among our valued members and look to the company as a guiding light," he added.
The IFA SHE Excellence Gold Medal was received on Wednesday by Egor Yurkin, the Head of EuroChem's Health, Safety and Environment department, at the IFA's Strategic Forum in Beijing, part of the body's General Assembly.
"Continuing to achieve sustainable growth is a key measure of success, along with the effective people management, safety, environmental stewardship and stakeholder engagement," Egor Yurkin said.
"It's a huge honor to have our efforts recognized by the International Fertilizer Association and we look forward to boosting our collaboration in future years," he added.
More on EuroChem's sustainability endeavors can be found in the 2017 Sustainability Report, which is available on the company website.
---
About EuroChem Group AG
EuroChem is a leading global producer of nitrogen, phosphate and potash fertilizers, as well as certain industrial and mining products. The Group is vertically integrated with activities spanning mining to fertilizer production, logistics, and distribution. EuroChem began potash production at its Usolskiy mine in early 2018, and continues to develop a second greenfield site at VolgaKaliy in Russia. Headquartered in Zug, Switzerland, the Group operates production facilities in Europe, Asia and the CIS, employing more than 26,000 people.
For more information, please visit eurochem-corporate-qa1b64.azurewebsites.net or contact:
Investors
Ruslan Karmanny
Head of Corporate Finance and Treasury EuroChem Group AG
ruslan.karmanny@eurochem-corporate-qa1b64.azurewebsites.net
Media
Guy Dresser
Head of Communications EuroChem Group AG
guy.dresser@eurochem-corporate-qa1b64.azurewebsites.net
Elena Kalinskaya
FTI Consulting
+44 (0) 20 3727 1000
eurochem@fticonsulting.com
Russian Media
Vladimir Torin
Head of Public Relations MCC EuroChem
vladimir.torin@eurochem-corporate-qa1b64.azurewebsites.net
All announcements