Russian stars retain EuroChem Cup; Finns claim bronze
Zug, Switzerland, May 31, 2019 — Home team NHC won the EuroChem Cup for the second successive year with a victory over fellow Russians Sever Kovdor, underlining their dominance in one of the world's leading ice hockey tournaments for kids.
NHC, previously known as Novomoskovsk Hockey Club, beat their northern compatriots 5-2 in a rollercoaster final at the Jubilee Ice Palace in the Tula Region, just south of Moscow.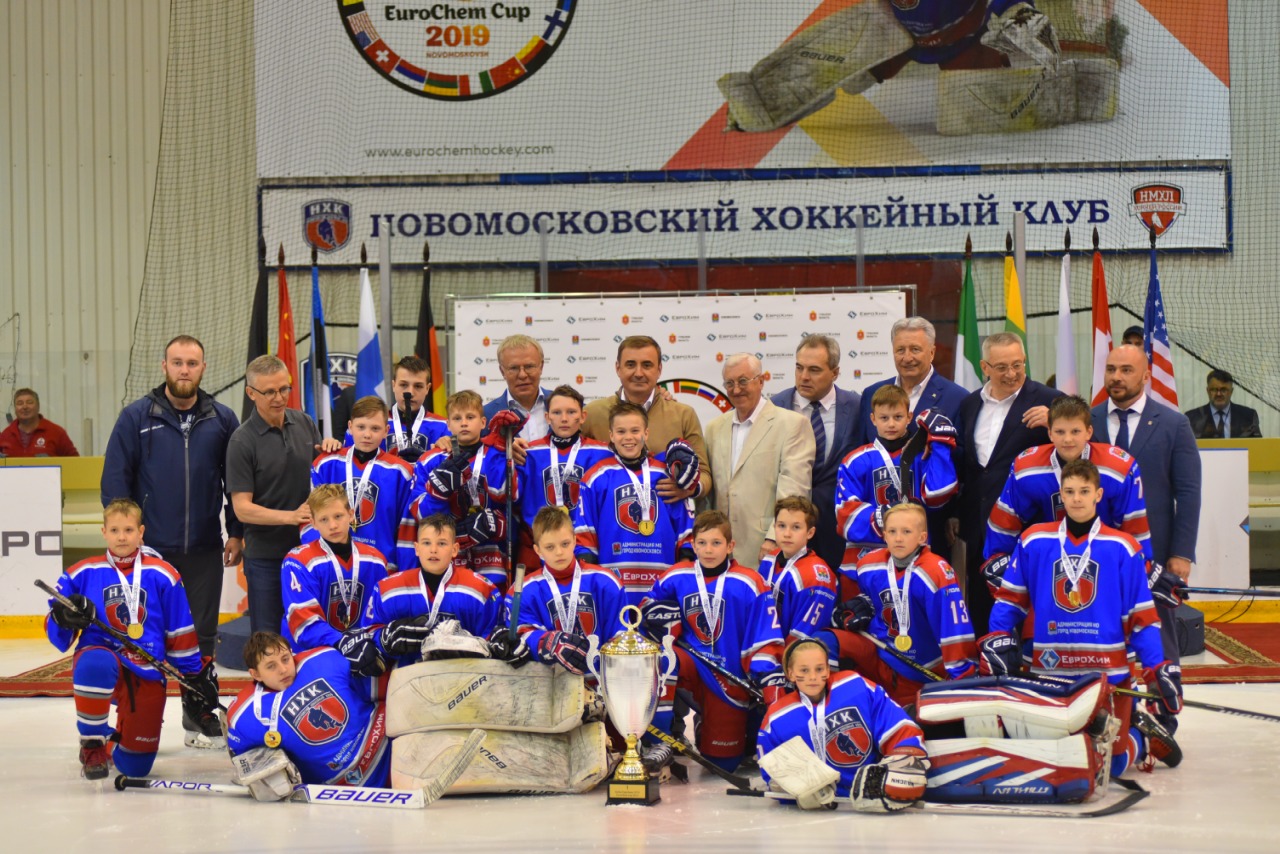 It brought to a close a tournament packed with stellar performances and sporting highlights. But as always, the EuroChem Cup was recognized by guests of the tournament as having broader significance beyond hockey, bringing together children from a record 10 countries including, for the first time, China and Italy.
"We must recognize that with 14 teams from 10 countries, this isn't just a EuroChem Cup, it's a genuine world championship," said Alexei Dyumin, the Tula Region Governor, at Wednesday's closing ceremony. "Every year we prove that sport is beyond politics, and we as adults take the young participants here as an example to follow."
Russian hockey legend Viacheslev Fetisov praised the participants of the tournament, which this year received the backing of the International Ice Hockey Federation, as "goodwill ambassadors."
This year's EuroChem Cup, the seventh edition of the event for kids aged 10-12, brought together more than 230 players from Belgium, China, Estonia, Finland, Germany, Italy, Lithuania, Switzerland and the United States, playing a combined 51 games over four days.
Among the other memorable performances was that of the Espoo Blues Juniors from Finland, who turned around a 1-0 deficit to grind out a 2-1 win over Severstal Cherepovets in the bronze medal game.
Chinese team Kunlun Red Star, brought a roster assembled specially for the tournament and was sponsored by Shenzhen Enjoy Fertilizer, Ltd. They posted two victories and finished an excellent 10th out of 14 teams.
Italy, represented by the Aosta Gladiators, ended up in sixth place in one of the best-ever debut performances seen at the EuroChem Cup, beating the Albany Capitals in the tournament opener and never looking back.
Full results can be found here.
The EuroChem Cup was first held in 2013. Conceived as a way of bringing together youngsters from different countries in a friendly sporting environment, it has helped foster enduring international links. EuroChem began funding the construction of ice rinks in 2011 in towns and cities where it operated in Russia as part of a major community building program. The first was in Novomoskovsk in the Tula Region.
---
About EuroChem Group AG
EuroChem is a leading global producer of nitrogen, phosphate and potash fertilizers, as well as certain industrial and mining products. The Group is vertically integrated with activities spanning mining to fertilizer production, logistics, and distribution. EuroChem began potash production at its Usolskiy mine in early 2018, and continues to develop a second greenfield site at VolgaKaliy in Russia. Headquartered in Zug, Switzerland, the Group operates production facilities in Europe, Asia and the CIS, employing more than 26,000 people.
For more information, please visit eurochem-corporate-qa1b64.azurewebsites.net or contact:
Media
David Nowak
Deputy Head of Communications, EuroChem Group
david.nowak@eurochem-corporate-qa1b64.azurewebsites.net
Russian Media
Vladimir Torin
Head of Public Relations MCC EuroChem
vladimir.torin@eurochem-corporate-qa1b64.azurewebsites.net
All announcements