Developing inhibitor technologies
We are currently working with 18 research partners and 12 universities – and conducting more than 250 field trials in 25 countries – to develop formulations that will deliver optimal results in specific soils, whatever the crop, location or climate.
Depending on environmental conditions, our stabilized mineral products such as ENTEC® and UTEC® can:
Decrease ammonia and greenhouse gas emissions by up to 100%
Reduce nitrate leaching.
Increase yields.

The urease inhibitor UTEC® temporarily blocks the conversion of urea into ammonium and effectively reduces nitrogen loss in the form of gaseous ammonia. We have carried out more than 150 trials using UTEC® stabilized urea around the world and on average, across all of the crops tested, yields were over 6 % greater than when fertilizing with conventional urea.

Our ENTEC® products contain ammonium stabilizers that reduce bacterial activity in soils. This arrests denitrification, while still providing a source of nitrogen to the crop. All ENTEC® -products are characterized by the high quality of their granules, guaranteeing problem-free storage and precise application.
The full cycle
At EuroChem, we seek to minimize the environmental footprint of our products, both during their manufacture and use. Product stewardship is defined as the management of the safety, health and environmental aspects of a product, which is to be applied in an ethically responsible way. Product stewardship encompasses the entire life cycle of a fertilizer: product development, raw material procurement, production, packaging, transport, storage, marketing and sales and advice on usage.
Securing fertilizer safety and efficiency across the value chain
The effectiveness of our fertilizers depends to a large extent on their quality, physical state and chemical properties. Maintaining integrity of our products at every stage of their journey through the value chain is therefore key to ensuring they perform as expected.
Careful handling, transport and storage of our products during manufacture and use also safeguards the health and wellbeing of our employees, partners, and customers.
As part of our Product Stewardship efforts, we have created a general Handbook that covers the basic principles of safe and efficient fertilizer handling. We encourage you to read it carefully — and keep it handy to refresh your memory.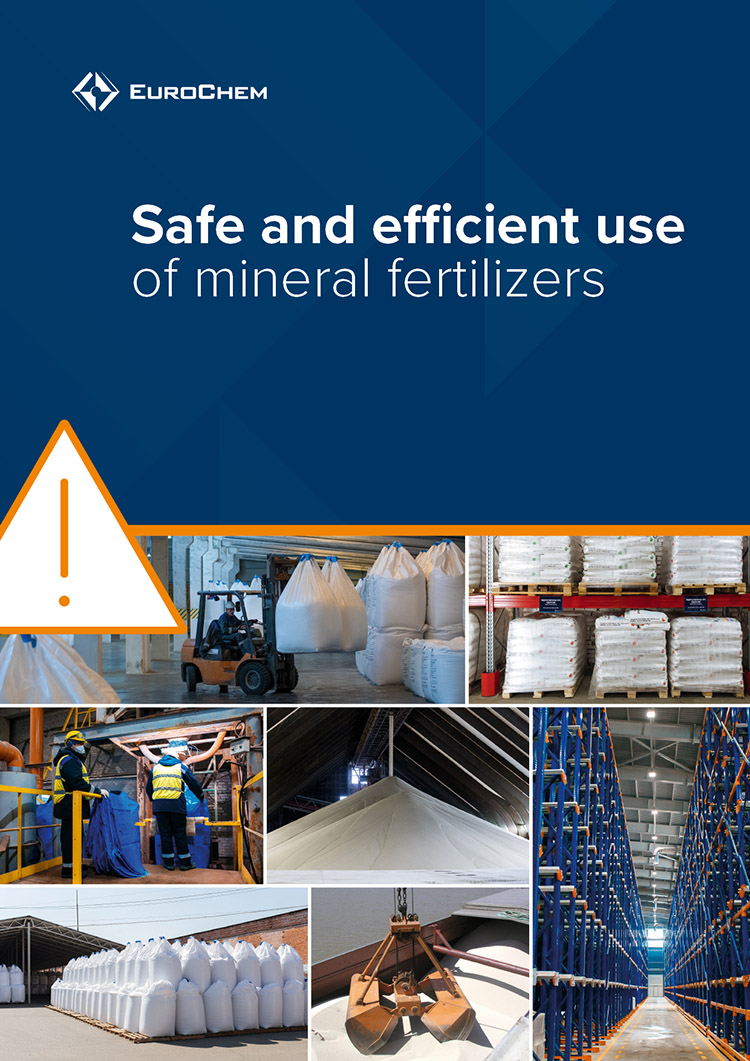 Click on image to access the document
Please note that local EuroChem representatives might have this Handbook in other languages, as well as versions with data specific to local requirements. Reach out to your local EuroChem team to learn more.
Open dialog
When selecting our business partners, we take a close look at their standards on safety, quality and environmental protection. We support our customers in an effort to find safe, efficient and environmentally friendly ways for further processing of our products. We provide information about further advances and new developments in connection with our products and the technologies used by us.