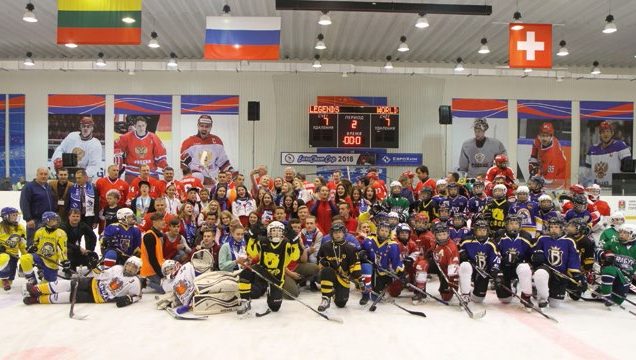 Communities
EuroChem Cup
EuroChem runs an annual international ice hockey tournament for children aged 10-12. The EuroChem Cup is staged at the Jubilee Ice Palace in Novomoskovsk, a short drive south of Moscow, every May.
Held in a warm atmosphere of friendship, respect and acceptance, the tournament brings together children who forge life-long friendships with kids from other countries, and have the privilege of experiencing new societies, traditions, customs and languages at a formative age.
A look at the 2019 edition of the EuroChem Cup
Entrants have come from Belgium, Estonia, Finland, Germany, Lithuania, Russia, the United States and Switzerland, with more than 1,000 children taking part in the EuroChem Cup since it was first held in 2013.
Although it initially involved teams from countries around the world where the company had a presence, the rules were later relaxed to allow others to take part.
Local schools in Novomoskovsk are involved in the tournament, "adopting" teams that they then support during the competition. The players themselves tour the local city and schools, and they also pay a sightseeing visit to Red Square in Moscow.
The competition has attracted wide public and commercial support, and has been heralded by respected institutions such as the International Ice Hockey Federation as a highly worthwhile community-building endeavor. EuroChem began funding the construction of ice rinks in 2011 in towns and cities where it operated in Russia.
More than 2,500 children train regularly at EuroChem-sponsored ice rinks, which together represent an investment by EuroChem in youth sport of more than $10 million.
EuroChem Cup in numbers 
500 – Number of children training daily at the Novomoskovsk ice arenas
204 – Number of children taking part in this year's EuroChem Cup
$10m – EuroChem Group investment in local community ice rinks
2,500 – Children training at EuroChem sponsored ice rinks
>1,000 – Number of children who've taken part in the EuroChem Cup since its inception in 2013
8 – Number of countries sending teams to this year's EuroChem Cup
25 – Average size of a country delegation, comprising 17 players and 6 adults (coach, medic, parents, chaperones)
Priceless – Memories the young participants in the EuroChem Cup take home
Number of children taking part in this year's EuroChem Cup
Number of countries sending teams to this year's EuroChem Cup
Children training at EuroChem sponsored ice rinks
EuroChem Group investment in local community ice rinks
All stories