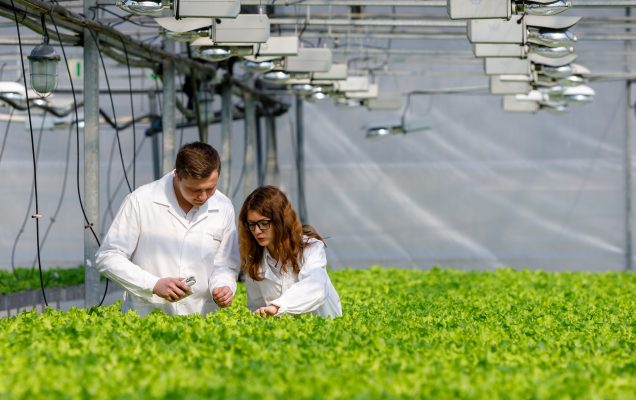 Innovation
Innovation matters
Innovating throughout the company
We need to drive innovation, develop better products, and strive for excellence in all we do.
At EuroChem, we believe innovation is a key to generating value for all our stakeholders. For EuroChem to survive and thrive, we must innovate and improve – focusing on what we make, how we make it, finding new revenue opportunities, optimizing existing activities and channels and, ultimately, generating better returns. Innovation helps set us apart from competitors.
Research and development (R&D) will help us identify new opportunities. We know that disruptive new technologies have the potential to significantly reduce global demand for fertilizers; they also have the potential to open doors to new markets. This combination of 'threat' and 'opportunity' represents an ongoing challenge for EuroChem, prompting us to focus on R&D, innovation and portfolio management.
In Mannheim, Germany, for instance, colleagues work to develop new products, manage field trials at locations around the world, and explore science for answers to the challenges and problems facing our customers.
Innovation isn't just about producing better fertilizers. It's about finding improving how we make them too, taking advantage of the latest engineering and chemical technologies in our industrial plants.
At EuroChem Antwerpen, we have been a major sponsor of the 2018/19 EFFECT2 lecture series on industrial uses for engineering and chemical technologies. This region-wide series for engineers and students – in Flanders and beyond in Belgium – aims to develop stronger links between academia and industry and persuade students to consider the relevance of their skills in today's workplace.
The lecture series, 'Resources for a Successful Bio- and Chemical Industry', consists of events, discussions and site visits across four industrial centres. Each day covers one of four key topics: data, people, resources and materials.
In October 2018, EuroChem Antwerpen opened the series with a day-long programme at its plant, focused on 'Big Data for an Evolving Chemical Industry'. A tour of the plant was followed by presentations by data specialists and a keynote lecture, 'Introduction to Big Data'.
EuroChem is in the well-established chemical/petrochemical cluster in Antwerp. We embrace innovation and the intelligent application of technology to generate better commercial, environmental and social outcomes Filip de Jongh

EuroChem Antwerpen Managing Director
Collaboration in innovation
We are of course dedicated to helping farmers optimise nutrient use, enabling them to enhance their yields. In November 2018, we announced the formation of an R&D partnership with Belgium-based biotechnology company Aphea.Bio. Our collaboration will focus on developing next-generation fertilizer technologies designed to significantly boost the take-up of key nutrients by plants. The research will utilise data and samples from scientific field trials at 10 different European locations. This exciting alliance further strengthens EuroChem's commitment to investing in innovation.
Our R&D activities focus on the development of new, premium fertilizers.
These products deliver increasingly resource-efficient solutions, adapted for the specific needs of farms, soils and crops. This is cost effective for customers – and encourages sustainable practices by providing optimal nutrition with minimal application.
We plan to expand our range with innovative specialty products including different NPK formulas, products with micronutrients, urease inhibitors and nitrification inhibitors.
Our R&D team in Mannheim, Germany, is focused on optimising the specific characteristics of these products, developing innovative solutions that are equal to the challenges of modern sustainable agriculture.
How do our stakeholders benefit from R&D?
Our next-generation fertilizers offer multiple benefits. They require fewer applications to be effective, help improve crop yields, result in less nutrient loss and offer sellers higher margins.
Farmers can increase yields through the use of enhanced-efficiency fertilizers. Trial results show that although products such as ENTEC® cost more to develop than standard fertilizers, the benefits outweigh the additional cost over a standard product, with fewer applications needed and improved yields achieved.
average yield increase using UTEC®46
Farmers increasingly seek information and advice on the best application of fertilizer to achieve optimum crop yields. Enhanced efficiency fertilizers and other premium products offer suppliers the potential to achieve higher-margin sales and provide add-on services.
Employees benefit because the development of next-generation fertilizer products requires highly skilled workers with science and agronomy backgrounds. EuroChem's talent strategy and career development opportunities are designed to attract and retain the expertise we need to meet our business goals.
There are significant environmental and community benefits from next-generation fertilizers. Because they enable significant reductions in leaching and greenhouse gas emissions, they are better for the environment – and therefore good for society as a whole. Trials show evidence of significant reductions in emissions, thus highlighting the opportunities that exist for agriculture to reduce its environmental footprint.
All stories