Innovation
The Nitrophoska® story
The world's first complex fertilizer
History
The story of Nitrophoska® is deeply rooted in one of the most important technological advances of the 20th century, the ability to produce ammonia at an industrial-scale. By making ammonia widely available, the Haber-Bosch process supported significantly higher yields from agriculture.
As the primary building block for fertilizers, the rise of ammonia production led to breakthroughs in fertilizer production, such as the development of Nitrophoska®, the world's first complex fertilizer.
BASF started the first commercial plant for ammonia synthesis in 1913 in Ludwigshafen, Germany. This paved the way for the Green Revolution.
The next decade saw BASF increase its research capabilities and establishing the Agricultural Center Limburgerhof as a center of excellence to pursue innovation in plant nutrition.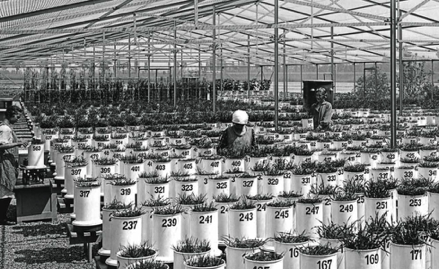 The growing use of nitrogen fertilizer supported higher farm yields and research into novel fertilizer products. While applying nutrients separately provided good results, the real breakthrough would come by combining all three primary nutrients, Nitrogen (N), Phosphate (P) and Potassium (K), in one granule. Intensive research and trials followed in the quest to develop the world's first complex fertilizer. Over the next several years, countless tests were run according to different crops and soils. The ideal proportions were found in 1926.
The Nitrophoska® story begins
The Agricultural Center Limburgerhof developed programs and conducted field trials on cereals, such as wheat, rice, and corn, as well as on sugar beet, tobacco, and various vegetables. The research focused on plant health and farm economics. How much nitrogen to apply, in what form, and at what time, as well as further studies on how to increase yields and generate higher farm income. These were the core questions. The trials demonstrated up to 70% higher crop yields and highlighted the importance of balanced nutrition, confirming that complex fertilizer were key to achieve higher average yield gains.
Commercial production of complex fertilizer began at the Limburgerhof facility in 1927, allowing BASF to introduce the world's first complex fertilizer. Named after the three primary nutrients, Nitrogen (N), Phosphate (P) and Potassium (K), Nitrophoska® was offered in different formulations for different crops and soils.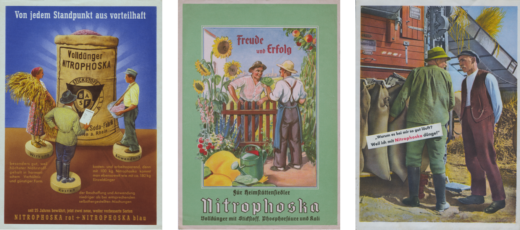 Nitrophoska® found instant global success, performing exceptionally well in Asia, where soils tend to be very acidic. With several formulations available, the sulfate of potash-based Nitrophoska offered reliable performance for chloride-sensitive crops.
By the mid-1960s, the fertilizer production capabilities of the Limburgerhof facility were at capacity and BASF looked at expanding elsewhere. The Rhine-Scheldt Delta area offered an ideal location for raw material supplies, production, and shipments of Nitrophoska® to global destinations. BASF Antwerpen NV started producing Nitrophoska® fertilizer from 1967.
Over the next 30 years, BASF continued improving Nitrophoska® production processes and quality, while at the same time advancing and growing its crop nutrition knowledge.
Nitrophoska® today
BASF sold its Antwerp fertilizer activities to EuroChem in 2012. In addition to the expertise and technology, EuroChem assumed ownership of the Nitrophoska® heritage. EuroChem has since carefully and proudly preserved both historical and technological heritage, while continuing to work closely with BASF as the production facilities remain at the heart of the Antwerp site.
Nitrophoska®, the world's most trusted complex fertilizer, is offered in multiple formulations to ensure optimal crop nutrition in various soil and climate conditions as well as crop types.
The Nitrophoska® promise
Trusted by farmers the world over for more than 90 years, Nitrophoska® is the original complex fertilizer with all nutrients readily available in one granule, ensuring balanced nutrition. Its continued success lies on outstanding physical properties, good storability, and uniform spreading:
Excellent granule hardness
High-quality surface treatment
Uniform surface texture
Sealed to prevent dust
Smooth granule size distribution
High granule weight
Round granules
These parameters are important for ensuring a good spreading pattern. Thanks to the superior properties of Nitrophoska®, all necessary nutrients can be evenly applied in a single pass with a single spreader setting – even at spreading widths greater than 40 meters and wind speeds above 5 m/second.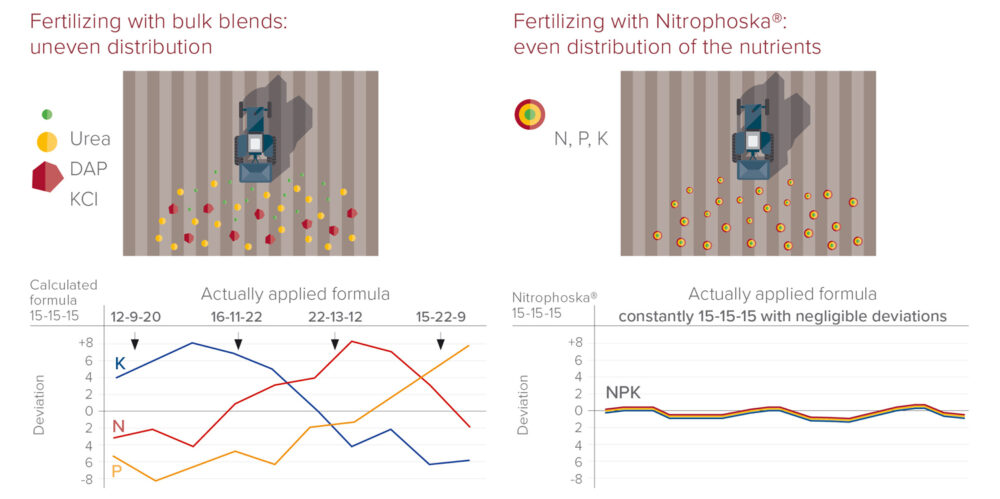 Unlike highly concentrated straight fertilizers, Nitrophoska® is synonym with even nutrient distribution. This ensures nutrients are in close proximity to plant roots, which is especially important for less mobile nutrients such as phosphate and potash. Nitrophoska® contains all nutrients in a highly soluble form, which is ideal for promoting crop growth from the very start, right after application. This promotes high nutrient use efficiency, under even the most unfavorable conditions. Constant checks during production ensure a highly reliable production process and a high product quality.
The Nitrophoska® difference
Better performance and results with Nitrophoska®
Efficient supply of all needed nutrients
Nutrient delivery directly to the root zone
Double action of ammonium and nitrate nitrogen
Additional secondary and micronutrients to prevent deficiencies and increase quality
No segregation of nutrients and even distribution in the field
Labor economic benefits
Suitable for all crops, including chloride-sensitive
Many years of successful trials and positive field result
What Nitrophoska® means to us
Filip Dejongh, Managing Director, EuroChem Antwerpen:
" When I see a bag or a heap of Nitrophoska®, the first thing which comes to mind is the passion, the "can-do spirit" and engagement of the operational teams in Antwerp.  The operators and (lab) technicians make 24/7 the difference in quality and performance of the plants.  And after 32 years in fertilizer production, I can assure you that every day is different and thus it never gets boring. "
Ludo Dubois, Quality Control Manager, EuroChem Antwerpen:
" In all the different positions during my 40 years in fertilizers at BASF and EuroChem, the complexity of the Nitrophoska® formulations kept me always triggered to gain more knowledge, knowing that there will always be some space for improvement: or capacity, or quality, or in the use of the available raw materials, but in the good belief that the use of Nitrophoska® is the best economic and agronomic solution to farmers all over the world."
Mathias Schroeder, Managing Director, EuroChem Agro Asia:
" Speaking about Nitrophoska®, the following come to my mind: highest quality in fertilizer business, history, tradition, long lasting relationships, commitment (to customer, to farmers), success and insurance (farmers know they get the yield and stable income with Nitrophoska®), identification (colleagues be it in production, sales, operations as well as distributors, retailers and farmers identify themselves with Nitrophoska® and the quality). 

In most Asian countries, Nitrophoska® also stands for Horse and Lion, a special logo and symbol for this outstanding fertilizer. The animals Horse and Lion represent strength, power, elegance and success. This is what Nitrophoska® stands for."
Massimo Rossini, Managing Director, EuroChem Agro SpA:
" Nitrophoska® is my NPK sulphate fertilizer, the only, the original, the inimitable. Nitrophoska® is what the farmer asks for, to replenish the nutrients removed from the soil by the crops. Nitrophoska® is my ideal friend, it never betrays, it is never banal and knows how to amaze when needed."
Sources and additional resources:
All stories