Our people
Nourishing talent, the EuroChem way
Nourishing talent, the EuroChem way
Around October every year, a group of around 150 gifted EuroChem individuals from several countries gather on the balmy Black Sea coast.
They don't know it yet, but some of them will go on to hold top executive positions within EuroChem. Others will push the boundaries of engineering to find ever-more efficient ways of extracting nutrients from the earth and the air. One, perhaps, will pioneer the kind of breakthrough in fertilization technology that will change the way we rear our crops, source our food, or think about our diet.
Here, at the annual Young Professionals Meeting in Sochi, EuroChem is thinking about tomorrow; building the engine that will drive the company to the top of the industry.
Fast-track opportunity
No matter the background or social status, EuroChem gives every employee who has recently graduated from higher education the opportunity to become a Young Professional. The designation enters the individual into a year-long program, where following detailed study of our key global facilities and business model, they must design a project to enhance the company's operations in any way they see fit, offering a 'sandbox' environment that rewards creative thinking, and present it to management.
The Young Professionals ecosystem builds natural leaders out of talented employees, who must put together and manage project teams to execute their plans. At EuroChem we subscribe to the notion, as Thomas Edison once put it, that "vision without execution is hallucination."
So, when our global army of Young Professionals is whittled down to the 150 people lucky enough to be invited to the annual meeting in Sochi, the company creates a true "Territory of Development," the title for the 15th edition of the event in October of 2021.
Territory of Development
At a conference complex not far from the Sochi Olympic Park on the Black Sea coast, participants from Belgium, Brazil, Lithuania, Kazakhstan, Russia and Switzerland gathered for the three-day event.
The Young Professionals Meeting was composed of three main sections: A Scientific-Technical Conference, during which the winning projects from local stages of the competition were presented to, and received awards from, EuroChem's top management; a business forum, where the Young Professionals had the chance to pose questions to company leaders; and a training program, which set the participants a range of challenges to enhance their project and leadership skills.
"Even though our company is relatively young, we have already established some excellent traditions. The Meeting is among the most outstanding ones," said EuroChem Group CEO in his address to the participants.
"In the space of 20 years, EuroChem has become one of the leaders of the global fertilizer industry. We have many strategic plans, which will see us through for decades. That is why each employee of the Company has now great opportunities to use his or her capabilities effectively, to boost his or her career, occupy key positions, and drive our Company forward. As EuroChem develops, our industry, regions and territories of our presence also develop. We create the future," he added.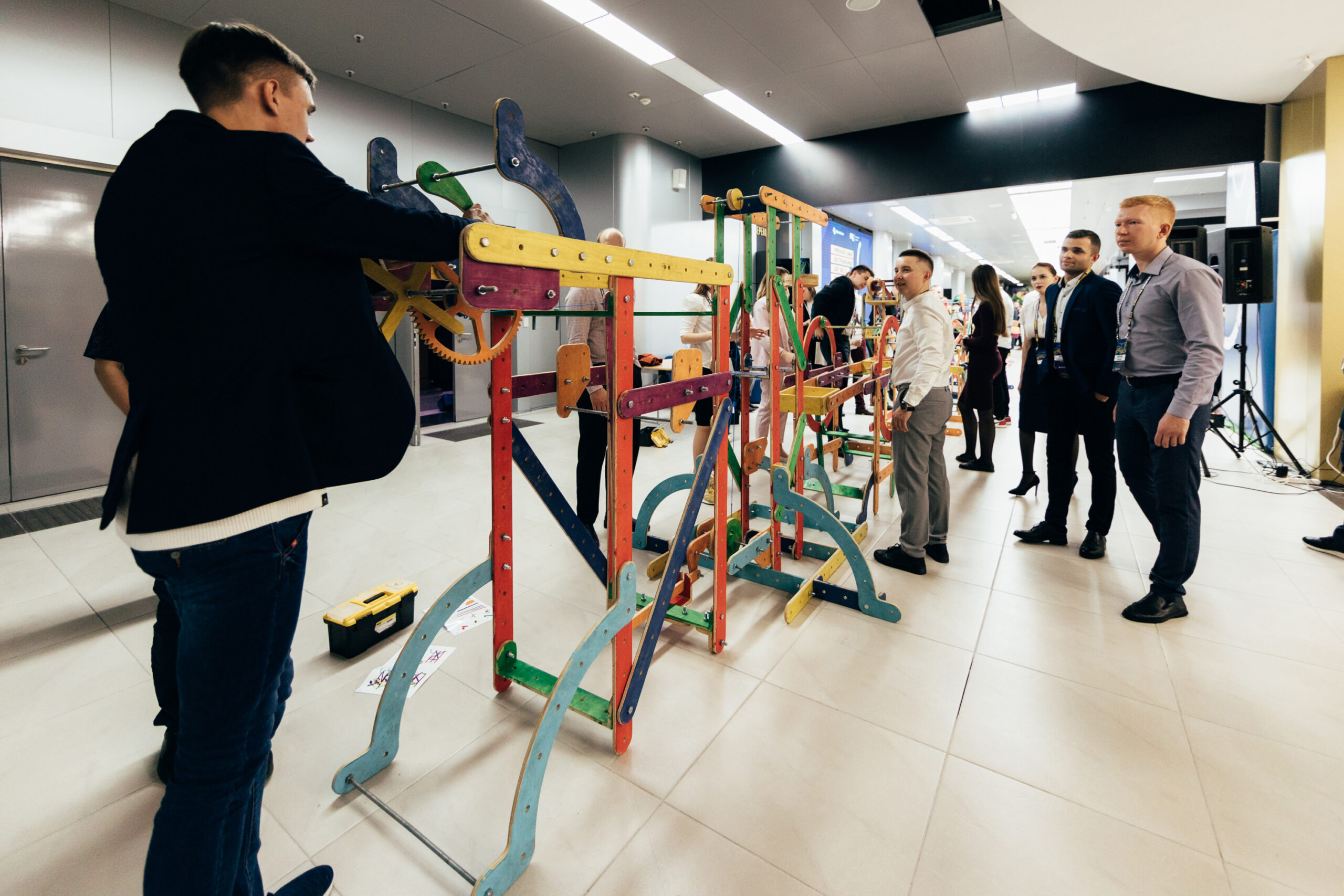 Meeting in Figures
150 Young Professionals from EuroChem
19 participants of the Scientific-Technical Conference (STC) from five countries
9 hours of live streaming in two languages for participants and jury members from Belgium, Brazil, Lithuania, Kazakhstan, Russia and Switzerland
22 representatives from management forming an expert jury team
3 sections for evaluation of STC research papers:

Improvement of process technologies
Plant performance enhancement
Development of innovations.
Scientific and Technical Conference: Winning projects
1st place was awarded to Arina Garvin – Kovdorskiy GOK specialist for her "Implementation of the Data Analysis Innovation Practice for Ore Quality Improvement."
2nd place was shared by Kristina Lezhnina, engineer of the EuroChem-Project, with her "Use of the Direct Heating Gas Heat Generators as an Optional Air Treatment System at Potash Mines," and Maksim Lauk, EuroChem-Karatau specialist, who with his project "Upgrading of the Phosphorit Meal Pneumatic Conveying System with Application of the Annular Jet Ejector."
Special awards for their projects were granted this year to: Aleksey Filchakov, Nevimmomyssk-Remstroyservice, Russia, Albert Trusov, Phosphorit, Russia, Juthamas Kamrak/ Sofie Rijnders, EuroChem Antwerpen NV, Belgium.
Quotations:
"I promised myself to win the Scientific and Technical Conference since this is my last year in the status of Young Professional. And I am happy that I managed to keep my own promise! I gave all my free time to my research project; I sincerely consider that this project has an actual potential. I am grateful to managers for their evaluation of my research paper."
Kristina Lezhnina:
"I liked the idea to split the research projects into three sections. It allows us as authors of the research papers to understand the evaluation criteria; and it seems to me that it was easier for jury experts to select the most valuable research projects from different disciplines. I have been working in EuroChem just for half a year, and the Meeting merges you in the company life through experience and opinions of managers and Young Professionals from other cities and towns. It is inspiring!"
Maksim Lauk: "Although I looked calm during defense of my research project, it was extremely difficult to harness my emotions. I do not have any experience of public speeches, and I applied efforts to express my thoughts, tell about my developments, and give meaningful answers to jury questions. I am happy that my project was noticed, because I am eager to reduce labor costs for removal of the product pipeline falls, simplifying the work of my colleagues and upgrading the pneumatic pumps".
As Director for HR and Organizational Development noted, the Young Professionals are our agents of change.
"The radius of their impact is much greater than we can sometimes imagine – they can influence the team, relations in the team, company's actions and development," she said. "It gives us all peace of mind to know that we will leave the company in good hands."
All stories